So J. Crew, I have a little bit of a beef with you. There are so many pieces that you try to sell me that are borderline ridiculous (ex. One – Two – Three ). I am usually not one to knock another person's fashion sense but do I really need a $200 crop top… The answer is no and I do judge you if you waste your money on these trendy pieces! I am all for spending a little more to get a better quality piece for something that I will have for years to come. Girlfriend won't be wearing no crop top in 5 years but I will be giving my leather bag to my daughter to use.
That being said, you don't need to spend a lot to look like you're worth a lot. There are classic pieces that every wannabe prepster has to have! I compiled a list of "preppy" pieces below. I always suggest first looking on the sale rack. J. Crew will give some great deals every now and then on sale items, the same goes for Gap, Madewell and Banana Republic. If that is still out of your budget (like it is for me) try factory and sister stores (Old Navy is to Gap). Also try your local TJMaxx and Marshalls because they will totally surprise you. A black v-neck tee is pretty universal so you don't need to pay $30 for one.
So here are some basics that you don't need to buy at J. Crew while getting that classic look.
Classic Blazer
The staple to be a true J. Crew girl is the simple blazer. It can be worn so many ways, everything from jean shorts to a maxi skirt. It makes great for layering for the spring weather and adds instant prep to any outfit. I love gold buttons on a blazer but I don't like the price tag that typically comes with said blazers, so I sew my own on to give a more school boy look to it!
Striped Sweater
One piece that can easily transition from one season to the next. It will adorn your closet all year long because it is such a classic and versatile shirt! Wear it with some bright colored skinnies and you'll look effortlessly cute.
Patten Leather Flats
Cute flats are a staple! The bright, bold look they bring to every outfit is a must! Plus the brighter you go the more attention you will bring to any outfit. I have a pair of magenta flats that I wear all the time and every single outfit I wear with them gets a compliment!  Any, wannabe J. Crew girl needs her bright patent leather ballet flats.  And, like everything else on this list, they don't have to be pricey to be cute.
Chunky Jewelry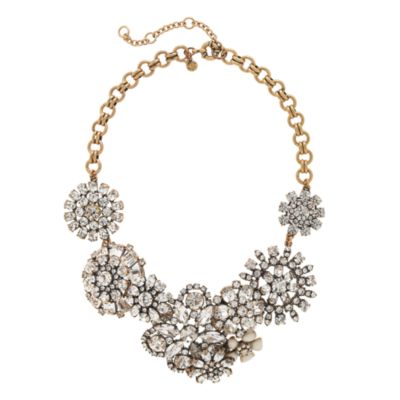 This is becoming a J. Crew staple. Ever since they came out with their chunky jewelry line about 2 years ago, we have not been able to look elsewhere for inspiration. Everyone is taking the idea of the J. Crew pieces and making them into their own. So paying $250 for costume jewelry is no longer your only option.
Stack-able bangles
J. Crew is, again, the front runner of the bright and bold bangle but other stores have jumped on this colorful and fun bandwagon at a fraction of the cost!
Clutch
Well it's no hobo bag when it comes to space but it does add that je ne sais quoi to an outfit.
Bright or Patterned Cardigan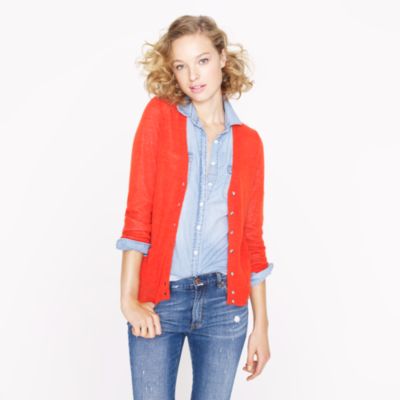 The cardigan is basic, well-cut, and comes in every single color or pattern you can think of. Paired with a tank or button down this is the perfect addition to taking shirt you love from summer to winter!
Jeans – Colored or Patterned or Plain –
Take that outfit from drab to fab by mixing bold colors into your wardrobe. Taking a bright yellow shirt and pairing it with cobalt blue pants will really catch people's eye. Just remember we don't want to look crazy so take some advice from J. Crew and make this pant a part of your wardrobe.
Newsroom Glasses
These darling glasses are the finishing touch to any preppy look. I'm not a big fan of wearing fake glasses, probably because I've had the eye-site of a bat for the past 15 years. But I am loving that glasses are now becoming an accessory right up there with bracelets and earrings. Try tortoise shell or a bold color with a different shape rim! It spices things up a bit. I say we give our eyes a rest and start wearing our fun spectacles!
Basic tees
Goes with anything and everything. I work a black v-neck linen tee to the office with a pencil skirt and a chunky necklace. I then wore that same tee with a pair of jean shorts and chucks. It is a such a versatile piece that everyone needs at least a black, white and one colored one.
Chinos
These are the office cheat pant. They are colored pants that come in all different types of styles. Every prep needs to own at least one pair of chinos. They're a staple. As you flip through Vineyard Vines catalog and count how many people are wearing chinos,
Button Down
The button down can dress up or dress down any outfit. It will bring more of a messy, unpolished look to an outfit or it can add of flare of professionalism. Whether you are running to the beach or going into a meeting this is an easy piece to style. It's knowing how to do it, is the trick.
Over the years I have learned that
what is important in a dress is
the woman who is wearing it.
SO remember, it is not about where your clothes come from but how you wear them and style them. There are options for everything. Don't worry about labels because when someone is wearing an amazing outfit people don't initially think "I wonder how much she spent on that". The thoughts going through their mind are about your fashion sense and how the clothes were styled. For example if you layer necklaces instead of just wearing one or if you cuff your jeans to show off your heels. It is taking clothing and wearing it in a way that shows your personality!
Any questions email me at theoxfordguide@gmail.com or Instagram me @theoxfrodguide
stay beautiful,
xoxo
Ellen