Between holes, stains and sweat marks, is it really a good idea to spend money on a basic t-shirt? Um, YES. Hear me out.
For me, a basic tee makes perfect sense — they look great with literally everything! Short shorts, jeans, pencil skirts, full skirts — well, you get the point. They are the most classic of all classics, the most simple and fresh of all things simple and fresh. I wear a plain t-shirt in some way or another almost every single day, whether layered under a sweater, tucked into a skirt, or even with Nike shorts when I'm working out. That's why it's shocking to me how many people don't own a plain white t-shirt!
I'm not sure what it is that deters people: Perhaps they don't know what cut to buy, or what fabric is best, or they just don't want to worry about keeping it clean all the time. Maybe for the white tee lovers are terrified of rainstorms or people with hoses spraying them, both of which would reveal their underthings, or worse, their breasts! But you know what I think? I think most people just don't realize how great the right basic tee, if properly taken care of, can be.
Here are some ways I styled my own basic t-shirt with stuff I already had in my closet. They dress some dressier items down and spice up some more basic pieces! My shirts are from Madewell (peach), J. Crew (black and lilac) and Gap (white). Again these are simple and quick ideas on how to wear this simple piece.
And lastly here are some tees you can buy if you want to try this look out. Some are on the more expensive end but honestly you can get the same effect with a basic Hanes v-neck. Click on the pictures and they will take you where you need to go! Remember that they come in a variety of colors and styles, so if you don't like something here look around and see what style you do like!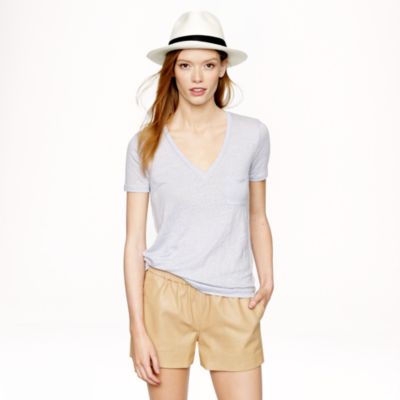 So what do you think of the basic tee? Comment below! I'd love to hear more from you! You can always email me at theoxfordguide@gmail.com or find me on Instagram @theoxfordguide or tag your pictures to #TOGtee! I look forward to seeing what you have mixed up!
Until next time my lovies,
xoxo
Ellen