Short Hair
I cut all my hair off and dyed it blonde and when I wake up I look like the pitcher from Summer Catch (you know that kid with the flame glove!)
Expectations:
Reality:
Dark Lips
Dark lips how I want to love you, but I just can't help but think if people are staring in a good or bad way. Plus when you mess up your liner, black isn't the most forgiving color.
Expectations:
Reality:
Big Sunglasses
In the words of my 4 year old cousin "Your glasses look like great-grandmas!", she obviously doesn't know fashion.
Expectations:
Reality:
High-Waisted
High-waisted looks so good on girls who can walk the VS fashion show, everyone else they just look like mom jeans with a little something extra.
Expectations:
Reality:
Winter Outfits
You can't wait to bust out the new wardrobe and put together all of those cute outfits. But even though heels photograph well in 3 inches of snow, you look like an idiot and it's cold.
Expectations
Reality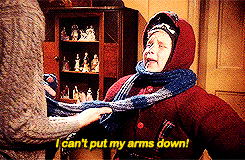 Hipster Glasses
I've tried so many Warby Parker take-home kits and I always come off looking like Urkel or Harry Potter.
Expectations
Reality
Men's Fashion
Suits are meant to be tailored- nothing more to say here.
Expectations
Reality
Beach Hair
When you spend hours adding sea salt to your hair and all you come off with is looking like is the Molly American Girl doll once you took her braids out, it's just not meant to be.
Exceptions
Reality
Fall Layers
They look so cute and chic. The girls have the right amount of layers, adding the perfect fall colors. But I can barely wear a long sleeve under a blazer, let alone a flannel, chambray shirt, velvet tee and sequin tie. You win again Pinterest.
Expectations
Reality