Halloweentown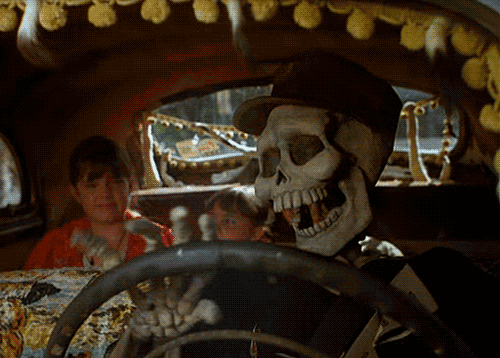 Halloweentown brings us into a world that all Halloween lovers could only wish to visit! It's my childhood wrapped up in yet another Disney movie. The Cromwell clan bands together to save all of the creatures that reside in best place on earth. Who knew that witches made potions in microwaves and that vampires goes to the dentist?! Every little detail epitomizes Halloween for me.
Hocus Pocus
This movie is so near and dear to my heart, I cannot begin October until I sit down and watch this work of art. Everything about it is perfect. It has that Disney Channel Original Movie charm, badass witches, ~amazing~ special effects, and a KILLER musical number starring Bette Midler. THIS MOVIE SURELY PUT A SPELL ON ME, AM I RIGHT??
Ghostbusters
Ghostbusters remains one of the funniest films I've ever seen. Every one of Bill Murray's lines is flawlessly delivered! It's not as if Dr. Venkman, Stantz and Spengler just invented some neon vacuum cleaners for the hell of it. They lost their jobs, so they went into business together. They didn't have the capital to pull it off, so Ray generously agreed to a third mortgage. When Pete's client and crush, Dana turned into a literal dog, they risked their lives to save her, the city and the world in one fell swoop. Oh and there is a giant marshmallow involved as well. The whole movie screams Halloween.
Edward Scissorhands
So it's safe to say Tim Burton completes me and feeds my obsession with Halloween. Edward's a guy with no parents. No understanding of the social structure of the world. He ends up living in a house with a beautiful girl, but lacks the words to tell her how he feels about her. He just wants to make people happy, but doesn't really understand how. Things go well for him, and he smiles. Things go poorly, and he lashes out. If you're a human, you probably went through this. A "monster" with a love story.
Hotel Transylvania
Dracula is the owner of an inn for weary, wayward, traveling monsters, whose 118-year-old daughter Mavis falls for a human who accidentally wanders in as a guest. Dracula is your typical monster dad who is overly protective of his daughter who (like all teens) knows what she needs and apparently that is a human boy. The movie goes on to show you about all different types of creatures. It takes you into a world that usually scares and frightens us but you go on to see we're all alike.
The Addams Family
Based on the sitcom from the 1960s, this quirky gem, introduces us to Gomez and Morticia Addams, whose family finds life in the suburbs rather difficult. Especially when estranged Uncle Fester finds his way home. There is a lot of dark humor that is perfect for the adults and minimal scare factor that all ages can enjoy.
Casper
Quite the morbid background about the death of a little boy but don't let that deter you from the pseudo Cinderella story that involves my 1995 crush, Devin Sawa . He is known as "the friendly ghost" and befriends the ghost hunters that come into his home. From the comic relief of his three belligerent uncles, to the amazing lab his father built, Casper leaves your imagination spinning with excitement!
It's the Great Pumpkin Charlie Brown
Because really why wouldn't you want to watch this? It's an elementary school staple. Our local library has a copy so fire up your VHS and get nostalgic.
Beetlejuice
This is probably one of the weirdest movies ever. Such strange details are added that make me fall in love with this movie time and time again. Who doesn't love cheesy musical numbers to Day-O or Winona Ryder Also, you have to ask yourself what would you do if you're a ghost whose powers are activated by your name, but you can't say it yourself? You engage in some rather clever clue delivery, of course.
The Nightmare Before Christmas
Jack, the literal Pumpkin King has the best set of groupies:
"You're such a scream, Jack!"
"You're a witch's fondest dream!"
"Jack, you make wounds ooze and flesh crawl!"
If only we could be so lucky to hear such compliments. While his lady friend is brilliant and resourceful, Sally is an easy one to admire. The fine details are what make the movie, from the details is the weird presents to Jack and his science experiments.
Tower of Terror
This is one of those movies that if you watch it over the age of 10 you would realize that still has it's freaky moments and was actually as scary as you thought, like the "I'm Cold" kid from Are You Afraid of the Dark? The scary factors play on all of your young fears. This movie opens up with killing off 5 people and then sends modern day folk into a haunted building. From dead bodies dancing to butch knifes to a party full of ghosts, and we watch their souls disappear into thin air.
Corpse Bride
Weird? Without a doubt. A corpse courtship may not be to everyone's tastes, young children's in particular. But the movie has its appeal, especially those of the blushing bride herself, voiced by a pouty Helena Bonham Carter. This movie is a lush, modern valentine to old-fashioned sentiment, and to old-fashioned moviemaking, too. The story concerns a young man and woman who meet for a marriage arranged by their parents, both families in need of money. The young man's betrothal to the corpse bride leads him to contemplate his own death, in order to fit in with her friends. Death combined with many musical numbers is one of the many reasons this movie made the list.
Double Double Toil and Trouble
Last but c'mon people it's certainly not least. OKAY YES IT'S A MARY-KATE AND ASHLEY MOVIE. But if you're looking for an awesome way to waste a an hour and a half and that'll get you in the Halloween spirit, this has everything you need. Bobbing for apples, pumpkin carving, witches, a weird magical moonstone, and, oh yeah, CLORIS LEACHMAN. And we all know that any movie with Cloris is a movie worth watching, and i guess the Olsen twins too.