May 13.
I love this day. Always have. Always will (and don't even try to tell me I will feel differently when I'm older).
It's my birthday.
I am going to eat cookie dough and cherry coke for breakfast. I am going to take the day off work , ignore all my unanswered emails, and celebrate my existence in the world.
How often do we truly, sincerely celebrate ourselves? And why don't we do it more often?
I might take a boxing class and go out for my favorite meal. I definitely will not do laundry or dishes. I might even go to the mall and buy myself something ridiculous and way too expensive.
Birthdays haven't lost any of their excitement, despite not being six, and not having a batch of my mom's cupcakes to take with me to school on the big day. In fact, as I've got older birthdays have become more exciting for me. Most of my friends think this is silly. They chalk it up to only-child syndrome—aka birthdays have always been a big deal because I was the only one and therefore was spoiled endlessly on my birthday. I think this is a half-truth.
My birthday was always a cause for celebration at home, mostly because my mom loves any excuse to throw a party (or multiple parties). She was the driving force behind my excitement. My parents have been, and will always be, my inspiration when it comes to joy. Let me tell you, the they know how to party. That is one determining factor that I am my parents daughter!
And when you have lead up like this how can you not get excited?!

Everyone knows I love my birthday and for everyone else out there who loves there birthday too join me in showing those Birthday Haters why your day is so amazing!
Your heart begins to flutter at the start of your birthday month.

It's the one day out of the year that is all about you. It's always been known as your day and everyone has always done all they could to make it special!
Birthday bashes are taken very seriously!
They let the whole world know that it's their birthday. This can be done via social media, profile picture, statuses, tweets and basically every which way possible!
They do their own count down to midnight and wait for all the birthday calls and texts anxiously
They will have multiple celebrations. One with friends one with family, one with co-workers and so on…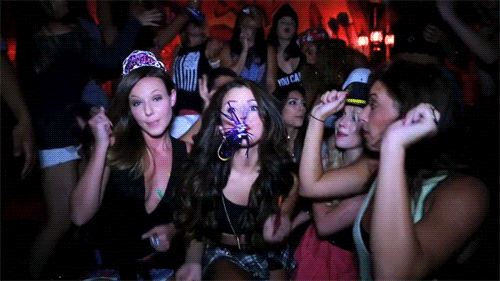 And no matter how old they get birthdays will never get to old for them!
Cards! Presents!! SURPRISES!!!
Birthdays are pure. They're the ultimate secular celebration, and everyone gets one. Birthdays are the special unique snowflakes of the holiday world –- each one is different. You decide exactly how, when and for how long you want to celebrate your birthday (if at all), because it's YOUR birthday and you can do whatever you want.
Birthdays are the only chance a lot of people get to have a day that is solely all about them. And I, for one, really enjoy taking the time to make the people around me feel really, really special –- even for just one day. Thus far, I haven't found any occasion more well suited to spoiling awesome people than a good old-fashioned birthday bash.
Honor yourself. Spoil yourself. Love yourself. And celebrate YOU!